Palisades Interstate Parkway Police - Certified Police Officer / Alternate Route Candidates
---
Job Announcement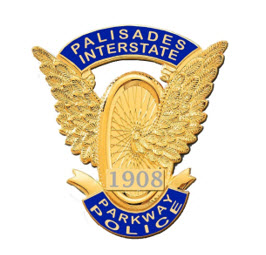 PALISADES INTERSTATE PARKWAY POLICE DEPARTMENT
IS SEEKING
NJ PTC CERTIFIED POLICE OFFICERS
(Requirement: Lateral transfers must be from a NJ Civil Service Department, not outside the State of NJ)
The Palisades Interstate Parkway Police Department is interested in hearing from individuals who are seeking a career in a non-municipal type of law enforcement. Individuals should display attention to detail, be ambitious, and passionate about this type of career.
All applications and resumes will be reviewed, and those selected may be interviewed. Not all applicants will receive an interview

.
MINIMUM MANDATORY REQUIREMENTS
Must be NJ PTC Certified, eligible for intergovernmental transfer program
A resident of New Jersey or New York
Minimum of 18 years of age
United States Citizen
Valid High School Diploma (or GED)
Valid Driver's License

Alternate Route and SLEO Class II Applicants must work in the Palisades Interstate Park Security Officer title and pass the four month working test period, prior to being promoted to the Provisional Police Officer title. SLEO Class II applicants may be sent to the BCPO -Accelerated Waiver Class
ABOUT PALISADES INTERSTATE PARKWAY POLICE DEPARTMENT
Officers are responsible for the 9-1-1 response and mitigation of incidents occurring on the Palisades Interstate Park Commission property. Included areas are not only the Interstate Parkway but also the lower park areas, commission buildings and facilities, Hudson Riverside area, and large events held within the jurisdiction. Some of the basic day to day activities include disabled autos; motor vehicle collisions; death investigations; narcotic, impaired driver, motor vehicle, and visitor law enforcement; area security and building checks; injured/lost hiker rescues; various marine emergencies; medical emergencies; and court security.
GENERAL DUTIES
Police Officers on the Palisades Interstate Parkway are responsible for general police patrol functions, there is a strong concentration in the following areas and individuals should apply accordingly: Motor vehicle crash investigation; impaired driving enforcement, motor vehicle traffic enforcement; marine patrol, search and rescue, bicycle patrol, narcotic, financial, and weapon interdiction.
Benefits
All members of the Palisades Interstate Parkway Police Department participate in the State Health Benefits Program (SHBP). For the most up to date information on the SHBP, please visit the state website.
Retirement/Pension
Sworn Law Enforcement Officers with the Palisades Interstate Parkway Police Department participate in the New Jersey Police and Firemen's Retirement System (PFRS). In certain cases, it may be necessary for a sworn member to participate in the police section of the Public Employees Retirement System (PERS). Criteria which invokes PERS participation usually relates to the age of the employed individual.
Non-sworn members of the Palisades Interstate Parkway Police Department participate in the New Jersey Public Employees Retirement System (PERS).
The $25 registration fee, is a fee charged for processing by PoliceApp.com.
Visit www.parkwaypolice.org for additional information about the
Palisades Interstate Parkway Police Department

Please direct questions regarding this position to jcohen@pippd.org
Jobs close at 11:59 PM (Eastern) on the deadline date specified, or when the position capacity has been met, or unless otherwise specified in the announcement. If the deadline date is not specified in the announcement, the agency has sole discretion on setting the deadline and jobs may close without notice. It is the applicant's responsibility to thoroughly read and understand the deadline requirements and capacity limits as outlined by the agency.

Applicants are responsible for checking their email and logging into their PoliceApp, PublicSafetyApp, FireFighterApp or EmployementApp account to monitor for emails, scheduling and process updates.
Login & Apply Now