Argyle Police Department

---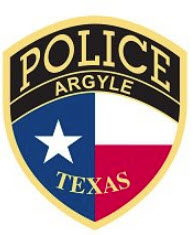 ABOUT OUR DEPARTMENT
The Argyle Police Department is a recognized law enforcement Agency through the Texas Police Chiefs Association Foundation Best Practices Recognition Program. This program evaluated our Department's compliance with over 165 best business practices for Texas law enforcement. These best practices cover all aspects of law enforcement operations including use of force, protection of citizen rights, vehicle pursuits, property and evidence management, and patrol operations.
COMMUNITY POLICING
Your sense of safety and security is the Argyle Police Department's primary concern! Through collaborative problem solving and the aggressive pursuit of law violators, the Argyle Police Department strives to create and safe and secure community.

The Department's philosophy of Community Policing is that we listen to what individuals have to say, and respond accordingly in order to address complaints and seek out long-term solutions to neighborhood problems and potential issues. In addition, the Department asks for your help in reporting suspicious activity and crime, in becoming and remaining involved in our community watch programs and sharing information with us in order to ensure that we remain a safe and secure community. The voters have overwhelmingly approved and thus supported the establishment of the Argyle Crime Control and Prevention District which provides additional financial support to further ensure that our Department remains one of the best equipped, first-in-class police departments of our size.