Northwest CT Public Safety Communication Center, Inc. - Dispatcher FULL-TIME ONLY
This job is currently closed. Please check our
Current Jobs
.
---
Job Announcement
DISPATCHER
$24.12 and up based on qualifications and experience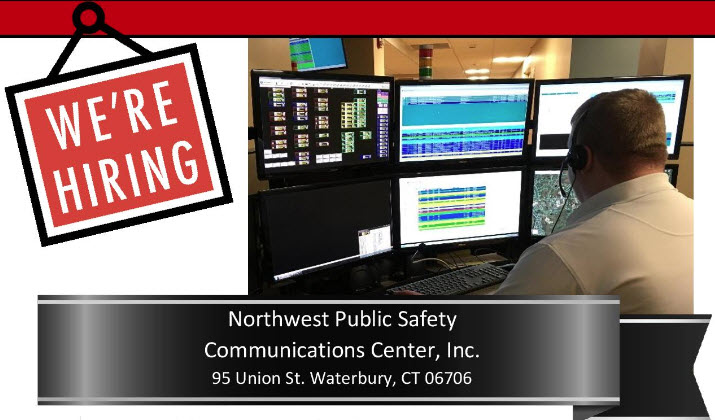 *PLEASE NOTE THAT THE NORTHWEST PUBLIC SAFETY COMMUNICATIONS CENTER WILL REIMBURSE THE APPLICATION FEE TO THOSE THAT ARE HIRED.*
Primary Purpose
Under the direct supervision of the Communications Manager, to provide communications support to municipal police, fire, emergency medical services and CMED, receiving and promptly transmitting emergency calls and non-emergency calls to ensure that the public receives the correct emergency and non-emergency services it requires.
Essential Functions
Promptly answers all incoming 9-1-1 and non-emergency calls, collects pertinent information from the caller, determines and assign the level of priority of calls, enters the required information into the Computer Aided Dispatch System, and routes the call to the appropriate dispatcher or other service agency for action.
Operates a radio console and various computer systems for the purpose of monitoring, dispatching and communication support services for police, fire, emergency, and related services.
Operates a multi-line telephone console system, alerting system, and TDD system for the deaf and hearing-impaired.
Translate information to the appropriate emergency codes.
Determines and assign the level of priority of calls and enters the data into a computer-aided dispatch system for radio dispatch purposes.
Performs emergency medical, fire and police dispatch and crisis intervention services.
Follows interrogation protocols to interpret, analyze and anticipate the caller's situation to resolve problems, provide information, dispatch emergency services, provide pre-arrival instructions or refer callers to other public emergency agencies.
Determines the appropriate number and type of equipment or apparatus to dispatch.
Monitors and responds to a variety of technical systems and alarms.
Creates and maintains accurate and well-organized records for documentation and retrieval purposes.
Assists in training of new employees.
Maintains and projects a positive professional attitude with the public, dispatch center, fire, police, ambulance personnel and others contacted in the course of work.
Follows all applicable safety rules, procedures and regulations governing the proper use of equipment used in the performing job.
Monitors, documents and reports non-compliance with response time standards.
Reports needed repairs or major malfunctions to supervisor.
Additional Duties
Performs other related duties as assigned by the Communications Manager and/or Executive Director.
Makes recommendations for system enhancement.
Participates in community programs to establish strong community relations.
Knowledge, Skills and Abilities
Knowledge of Company policies, procedures and protocols.
Knowledge of applicable laws and regulations relating to the provision of emergency and non-emergency dispatch services.
Knowledge of data information systems and data analysis.
Knowledge of service area landmarks and geography including municipalities, counties, fire districts, hospitals, and other medical care facilities.
Effective verbal and written communication skills.
Effective computer skills as needed for work (e.g., Data Entry, Word processing, Email, Google Earth), including the ability to correctly type a minimum of 3750 KPH.
Ability to organize and coordinate work.
Ability to focus and maintain concentration for extended periods of time.
Ability to maintain composure and function under the stress of emergency situations
Ability to read, write, speak, and understand English.
Ability to engage in self-evaluation with regard to performance and professional growth.
Ability to accept constructive feedback regarding work performance.
Ability to establish and maintain cooperative working relationships with others contacted in the course of work.
Physical and Mental Demands, Work Hazards
Works in standard office building environments.
Note: Also see the Summary of Physical, Sensory and Environmental Requirements Needed to Perform Essential Functions for this position.
Qualifications Profile
Any combination of education and experience providing the required skill and knowledge for successful performance would be qualifying. Qualifications include:
High School Diploma, or equivalent, or completion of sufficient education to successfully perform the duties of the position.
Successful prior experience working as a Call Taker or Dispatcher preferred.
Must obtain CT State Telecommunicator certification within 12 months of employment.
Must obtain approved EMD/EPD/EFD program certification within 3 months of employment.
COLLECT certification within 3 months of employment.
Motor Vehicle Operator's License or ability to provide own transportation.
Bilingual (Spanish/English) a plus.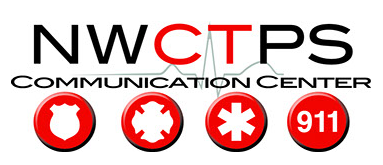 Please direct questions regarding this position to humanresources@nowestps.org
Jobs close at 11:59 PM (Eastern) on the deadline date specified, or when the position capacity has been met, or unless otherwise specified in the announcement. If the deadline date is not specified in the announcement, the agency has sole discretion on setting the deadline and jobs may close without notice. It is the applicant's responsibility to thoroughly read and understand the deadline requirements and capacity limits as outlined by the agency.

Applicants are responsible for checking their email and logging into their PoliceApp, PublicSafetyApp, FireFighterApp or EmployementApp account to monitor for emails, scheduling and process updates.