Bainbridge Public Safety - Public Safety Officer (Dual Police/Fire Certification)
---
Job Announcement

PUBLIC SAFETY OFFICER
Benefits
If you are interested in becoming a member of our team and enjoying the benefits of a rewarding career in Public Safety, we encourage you to join the Bainbridge Public Safety Department. Should you answer the call to service, you will receive the following benefits:
84 hours of paid vacation per year (starting)
96 hours per year of sick leave, with an accumulation up to 960 hours
Sick leave incentive bonus each December for unused sick leave, starting at 192 hours
9 paid holidays per year
Salary raises based on education
Group Health and Dental insurance plans (with Dependent coverage)
Full salary while training at police and fire academies
Take home car plan
Uniform and equipment provided
Credit union membership available
Deferred Compensation Program
City Retirement Plan paid by City
Duties
Respond to calls for service
Prepare Reports
Aid Persons in Need
Perform Arrests
Crowd Control
Patrol Assigned Areas
Enforce All Applicable Laws
Protect Crime Scenes
Transport Persons of Interest
Attend Court as Necessary
Perform Other Duties as Assigned
Scope and Effect
The purpose of this position is to enforce federal, state, and local laws. Successful performance helps ensure the smooth and efficient operation of the department and provides increased public safety for citizens and businesses of the city.
Physical Demands
The work is typically performed while intermittently sitting, standing, stooping, running, walking, bending, or crouching. The employee occasionally lifts light and heavy objects, climbs ladders, uses tools or equipment requiring a high degree of dexterity, and distinguishes between shades of color. Pursuit situations may require significant physical agility and exposure to violence or injury.
Work Environment
The work is typically performed in a patrol car or other vehicle, office, library, computer room, or outdoors where the employee may be exposed to noise, dust, dirt, grease, contagious or infectious diseases, irritating chemicals, cold or inclement weather, and dangerous situations requiring the use of physical force and sometimes the use of firearms and other weapons. The work requires the use of protective devices such as masks, goggles, or gloves.
Physical Agility Test
Each applicant must pass a physical agility test and the state-mandated entrance exam. The Department will conduct a background investigation. Each recruit must pass all courses and training required by the State of Georgia.
Successful Completion
Fulfilling these requirements, and pending a thorough background check, and psychological exam, the recruit will be interviewed by the Director of Public Safety. Those applicants successfully passing all phases of the selection process will be required to attend the state mandated Police and Fire Academies. Should the enrollee pass all classes required by the State of Georgia by maintaining a minimum academic score of 80%, they will enter into a Field Training Program prior to assuming the position of protector, enforcer, and community leader.
The entire application and process can take over 90 days.
The City of Bainbridge and the Bainbridge Public Safety Department are and equal opportunity employer.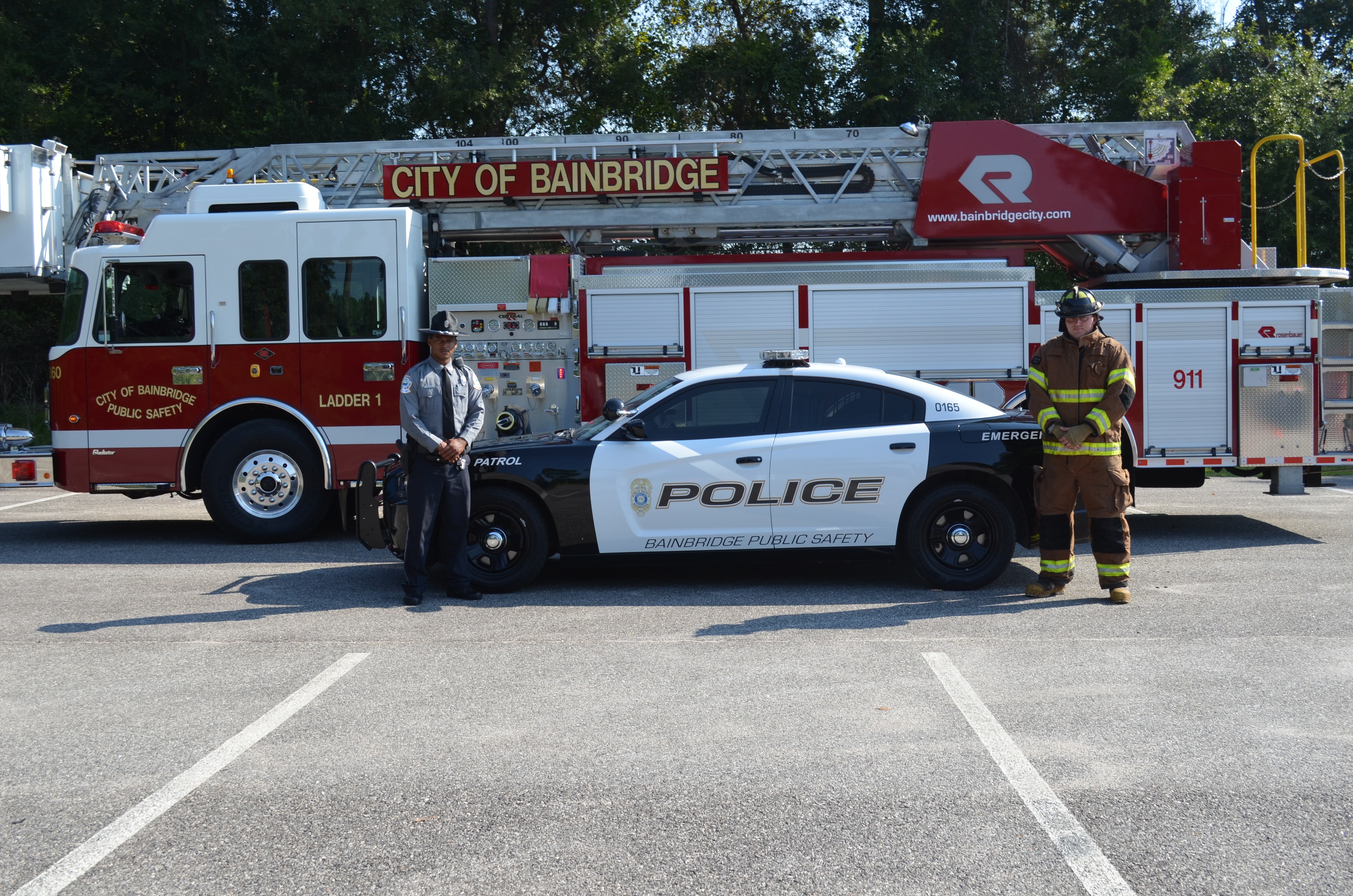 Please direct questions regarding this position to ryanw@bainbridgecity.com
Jobs close at 11:59 PM (Eastern) on the deadline date specified, or when the position capacity has been met, or unless otherwise specified in the announcement. If the deadline date is not specified in the announcement, the agency has sole discretion on setting the deadline and jobs may close without notice. It is the applicant's responsibility to thoroughly read and understand the deadline requirements and capacity limits as outlined by the agency.

Applicants are responsible for checking their email and logging into their PoliceApp, PublicSafetyApp, FireFighterApp or EmployementApp account to monitor for emails, scheduling and process updates.
Login & Apply Now