Nampa - Police Officer
---
Job Announcement

NAMPA POLICE DEPARTMENT
IS NOW ACCEPTING APPLICATIONS FOR
ENTRY AND
EXPERIENCED POLICE OFFICERS
NO VACCINE REQUIRED
Starting Hourly Base Wage:
$26.93 to $39.38 an hour, depending on experience
GENERAL DUTIES
Performs a variety of law enforcement duties in the enforcement of all State, and local laws and ordinances to ensure the preservation of the public peace, prevention of crime, and protection of life and property; performs other duties as required or assigned.
SALARY AND BENEFITS
The Nampa Police Department's pay scale has six scheduled pay increases starting at entry level ($26.93) and maxes out after six years at master patrolman ($39.38).
Lateral Officers will receive 1 for 1 credit for previous experience from another agency.
The pay scale allows for several specialty pay incentives allowing an officer to earn up 10% above the base wage.
Officer receive $1,000 a year for clothing allowance.
Paid Leave can be banked up to 800 hours that will carry over year to year with the option of selling back up to 80 hours.
Holiday Pay is paid to Officers who work holidays (11 total) throughout the year as a lump sum every December.
Comp Time can be banked up to 240 hours.
Insurance packages available at a competitive rate, see website www.nampapolice.us Post retirement insurance offered as well.
PERSI retirement.
ABOUT THE NAMPA POLICE DEPARTMENT
The City of Nampa's population is approximately 110,000 people.
The Nampa Police Department has 144 sworn officers and 60 support personnel.
The Nampa Police Department is a self-sufficient police agency with a dispatch center, crime lab, SWAT, Bomb Unit, Crisis Negotiation Team, K-9 Unit, Traffic Unit and a Records division.
MINIMUM QUALIFICATIONS
Must have a valid driver's license with a good driving record.
High School Diploma or GED.
No marijuana drug use in the last three years or illicit drug use in the last five years.
Must be a legal citizen of the United States.
Must be able to pass the Idaho POST physical fitness test.
Applicants must score at least the following minimums on each of the five events;
- Vertical jump - min, 14.0"
- 1 minute sit ups - min, 15 reps
- Push ups - min, 21 reps
- 300 meter run: max acceptable time, 77 seconds
- 1.5 mile run: max acceptable time, 17 min 17 seconds
POSITION QUALIFICATIONS
Accountability - Ability to accept responsibility and account for his/her actions.
Commitment to Safety - Understands, encourages and carries out the principles of integrated safety management; complies with or oversees the compliance with safety policies and procedures; completes all required training; takes personal responsibility for safety.
Communication, Oral - Ability to communicate effectively with others using the spoken word.
Decision Making - Ability to make critical decisions while following company procedures.
Initiative - Ability to make decisions or take actions to solve a problem or reach a goal.
Judgment - The ability to formulate a sound decision using the available information.
Motivation - Ability to inspire oneself and others to reach a goal and/or perform to the best of their ability.
Reliability - The trait of being dependable and trustworthy.
Strategic Thinking/Planning - Ability to develop a vision for the future and create a culture in which the long-range goals can be achieved. Understands and processes complex information and exercises sound judgment, considering the situation, the issues, the key players, and the levels of authority involved. Proposes courses of action that further the objectives, priorities, and vision of the organization.
Working Under Pressure - Ability to complete assigned tasks under stressful situations.

Specific Disqualifiers/Behaviors:

Felony, Criminal Activity Disqualifiers:

No marijuana use in the last three (3) years or elicit drugs use in the last five years (5).

No felony or serious misdemeanor convictions since the age of 18

No under the age of 18 adult criminal waivers
No undetected felony or serious misdemeanors committed by applicant since the age of 18
No minor misdemeanor convictions in the last 5 years or extensive minor misdemeanor history
Able to meet all IDAPA rules concerning character, drug use, traffic violations, and criminal violations.
You can find these rules and disqualifiers at http://www.post.idaho.gov/
PHYSICAL DEMANDS
| | |
| --- | --- |
| N (Not Applicable) | Activity is not applicable to this position. |
| O (Occasionally) | Position requires this activity up to 33% of the time (0 - 2.5+ hrs/day) |
| F (Frequently) | Position requires this activity from 33% - 66% of the time (2.5 - 5.5+ hrs/day) |
| C (Constantly) | Position requires this activity more than 66% of the time (5.5+ hrs/day) |
Physical Demands

Lift/Carry

| | |
| --- | --- |
| Stand | F |
| Walk | F |
| Sit | F |
| Manually Manipulate | F |
| Grasp | F |
| Reach Outward | O |
| Reach Above Shoulder | O |
| Speak | C |
| Climb | O |
| Crawl | O |
| Squat or Kneel | O |
| Bend | O |

| | |
| --- | --- |
| 10 lbs or less | O |
| 11-20 lbs | O |
| 21-50 lbs | O |
| 51-100 lbs | O |
| Over 100 lbs | O |

Push/Pull

| | |
| --- | --- |
| 12 lbs or less | O |
| 13-25 lbs | O |
| 26-40 lbs | O |
| 41-100 lbs | O |
HIRING PROCESS
Medical/Vision Exam
Academy training, 18 weeks for entry level and 10 weeks for qualified lateral officers.
HOW TO APPLY
www.Policeapp.com/NampaID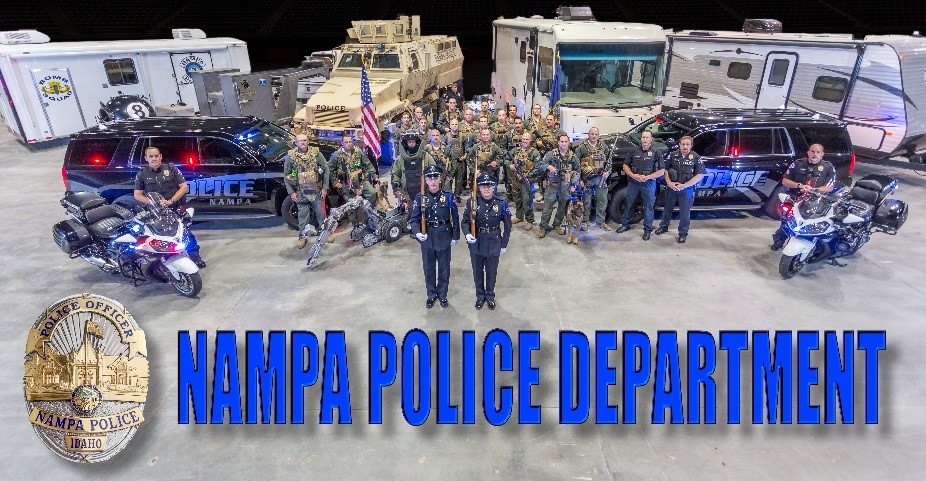 Please direct questions regarding this position to dwyrej@cityofnampa.us
Jobs close at 11:59 PM (Eastern) on the deadline date specified, or when the position capacity has been met, or unless otherwise specified in the announcement. If the deadline date is not specified in the announcement, the agency has sole discretion on setting the deadline and jobs may close without notice. It is the applicant's responsibility to thoroughly read and understand the deadline requirements and capacity limits as outlined by the agency.

Applicants are responsible for checking their email and logging into their PoliceApp, PublicSafetyApp, FireFighterApp or EmployementApp account to monitor for emails, scheduling and process updates.
Login & Apply Now