Richland Hills Police Department

---
Current Openings
---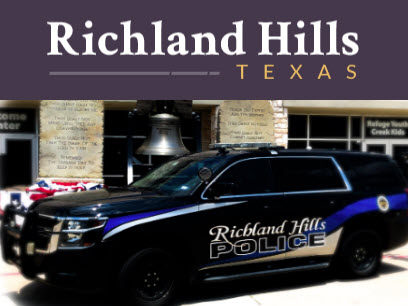 Our Mission Statement
Our mission is to provide quality police services through partnerships with the community; to protect constitutional rights through ethical decision-making and to strive to provide leadership to the police profession because we believe in the dignity and worth of ALL people.
Our Vision Statement
The Richland Hills Police Department is committed to being a model law enforcement agency employing a highly motivated team who embodies professionalism, integrity, and enthusiasm, fostering partnerships with one another and the community that will enrich the quality of life for all.
Our Community
The location of Richland Hills in the Dallas/Fort Worth Metroplex is unmatched. Encompassing approximately 3.9 square miles in Northeast Tarrant County, the City borders the northeast corner of Fort Worth, is less than 20 miles from the Dallas/Fort Worth International Airport, less than 15 miles to downtown Fort Worth and less than 30 miles to downtown Dallas. The City fronts State Highway 183, State Highway 121, and State Highway 26. Easy access is provided to each via Interstate 820. Maps to the City
Railroad access is currently available to the City's largest industrial park and commuter rail connects Richland Hills to downtown Fort Worth and Dallas. Rider Request bus service is provided throughout the City and to neighboring Fort Worth. Express bus service is available to downtown Fort Worth. Very few other communities in the Metroplex can offer this combination of intermodal access to the Dallas/Fort Worth Metroplex.
Our Core Values CHALLENGE Statement
The Richland Hills Police Department believes in the dignity and worth of all people. We accept the CHALLENGE, in both our personal and official lives, to conduct business in a professional manner. We CHALLENGE every member of the Richland Hills Police Department to accept and utilize these core values in all decisions made.
Courage
Mental or moral strength to venture, persevere, and withstand danger, fear or difficulty
Honor
Strong moral character or strength, and adherence to ethical principles
Accountability
An obligation to accept responsibility or to account for one's actions
Loyalty
Faithful to a person, ideal or cause
Leadership
The ability to guide, direct or influence people
Ethical
The discipline dealing with what is good and bad and with moral duty and obligation
Noble
Possessing very high or excellent qualities
Good Will
A kindly feeling of approval and support; benevolent interest or concern; willing
Excellence
An outstanding or valuable quality