Wildwood Police Department

Chief
Joseph Murphy
Address
4400 New Jersey Ave
Wildwood, New Jersey NJ 08260
Phone
609-522-0222
Fax
609-522-3508
Website
http://wildwoodpd.com/wp/
---
Current Openings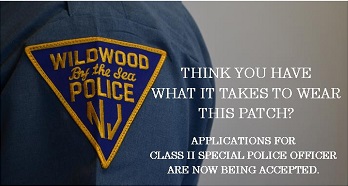 2020 Summer
The City of Wildwood is one of New Jersey's premier shore resort communities which boasts a World Famous Beach and Boardwalk. The pristine beaches of Wildwood have been enjoyed by thousands of visitors each and every year, and the Wildwood Boardwalk is revered to have more amusement rides then Disney World. The year round population of Wildwood is approximately 5,500 but this number significantly increases during the summer, and swells in excess of one hundred thousand visitors or more during the various Holiday weekends. Although the City of Wildwood is a small municipality, we maintain a larger proportionate number of the more serious criminal infractions than other surrounding communities. These indices are due to the increased volume of tourists to our small community, significantly more licensed liquor establishments, as well as playing host to hundreds of special events throughout the season.
The Seasonal Law Enforcement Officers that are selected to work in the City of Wildwood are frequently exposed to more serious criminal actions and investigations which provide officers with an enhanced opportunity to obtain valuable police experience that cannot be matched. The City of Wildwood is a very diverse community and only applicants that possess strong intelligence, good moral character and are in excellent physical condition, will be successful in obtaining a position within our Agency. Officers must be level headed, professional and courteous at all times, and possess the ability to take charge of the situation and ensure proper action is taken.
If you think you have what it takes to wear our patch, then visit www.wildwoodpd.com and complete the application as directed. Time is running out so act now!
Good luck!