The Sturbridge Police Department has a complimentary staff of 21 sworn police officers comprised of 1 Chief of Police, 1 Operations Lieutenant, 1 Administrative Lieutenant, 3 Sergeants, 1 Detective, 14 full-time Police Officers, 3 part-time Police Officers, 1 Executive Assistant, 1 Animal Control Officer and 1 Clinician. The Sturbridge Police Department is also responsible for the day to day operations of the dispatch center which is staffed with 7 full-time and 4 part-time dispatchers.

The Sturbridge Police Department is broken into two divisions, Operations and Administrative Services. Click on the links below to visit our Divisions.
The Sturbridge Police peridically holds Citizen Police Academies to help educate members of our community, our staff, and to strengthen our community policing ties with residents and businesses. Participants will learn about the things the Sturbridge Police Department does to make our community a safer place to live, work and play. Citizens will have many opportunities to ask those often wondered questions.
The Citizens Academy is more than just a series of lectures. It includes visual presentations, question and answer sessions, tours and a variety of practical exercises. Participants will tour the public safety complex and observe communication personnel handling 911 calls in the dispatch center. Students will operate police RADAR, watch a police K-9 search for drugs, and learn about specialized units, including the motorcycle patrols. Instructors will discuss criminal and traffic laws, identity theft and crime prevention. Students may choose to ride with an officer as he or she patrols their assigned area.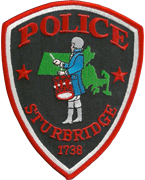 UNITS
Internal Affairs Unit
The Internal Affairs Unit, which is part of the Professional Standards Division, investigates citizen complaints and administrative rule violations alleged against police personnel and reports the results of such investigations to the Chief of Police.
Accreditation
The Sturbridge Police Department is a member of the Massachusetts Police Accreditation Commission (MPAC). MPAC provides credentialing services for law enforcement agencies across Massachusetts. MPAC is a proven modern management model; once implemented, it presents the CEO, on a continual basis, with a blueprint that promotes the efficient use of resources and improves service delivery, regardless of the size, geographic location, or functional responsibilities of the agency.

Staff Inspections Unit
The inspector serves to provide the Chief of Police with information in departmental efficiency and effectiveness; conducts on-going inspections and audits of departmental functions, equipment, policies, procedures and personnel.
Emergency Communications Unit
The Sturbridge Police Department houses and maintaines it's own E-911 dispatch center. The center is staffed with four full-time and 4 part-time dispatchers. In 2012 the dispatch center generated more than 30,000 calls for service. The center is also compliant with all Emergency Medical Dispatching protocols which is now mandated by the State of Massachusetts 911 Department.